The Big Barn
The Big Barn
Located in the middle of the Farm, the large barn will also have multiple permanent, seasonal or temporary functions.
Tomorrow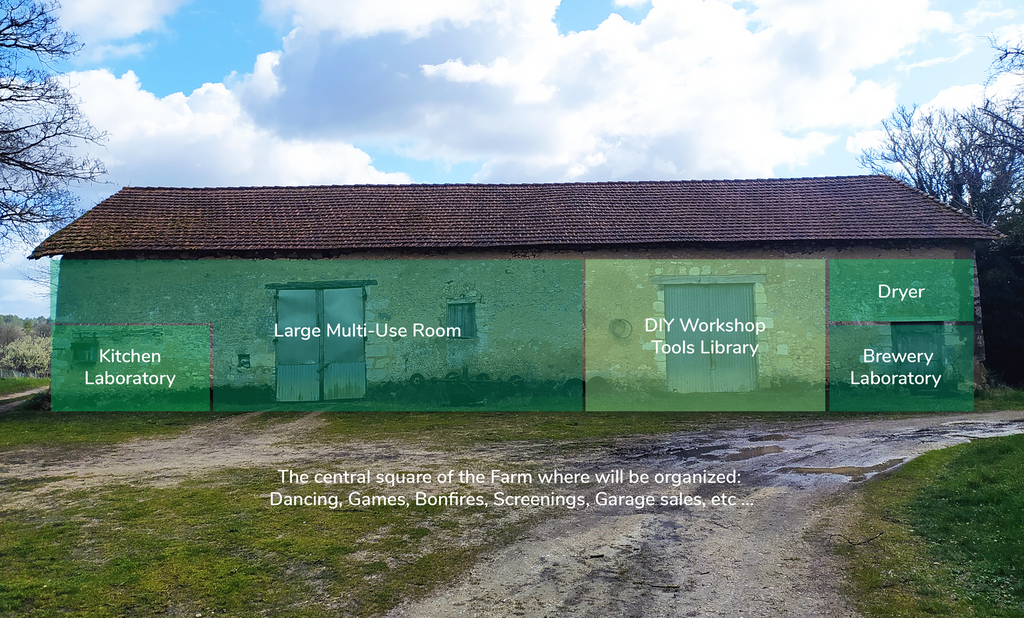 The Big Barn is intended to host many activities throughout the seasons at the Farm.
Our goal is for this large barn to be used throughout the year for different purposes.

Permanent uses:
A Workshop, a Bricothèque, a Kitchen, a Laboratory, a TinyBrasserie and a Dryer.
Seasonal uses:
The Multi-Use room will be used in winter for indoor cultivation and it will be used as a small reception room in summer (weddings, baptisms, etc ...)

Temporary Uses:
Outside of periods of indoor cultivation, the multi-purpose room will be used for ephemeral events such as our festivals, shows, exhibitions, conferences, etc ...
Kitchen & Laboratory
The Farm will have a professional kitchen and a laboratory to transform the different farm products.
Like all premises on the farm, this kitchen and laboratory will be available for shared use.

DIY Workshop &
Tools Library
The Farm will obviously have a workshop, which like all the other buildings, will be shared and united.
Our goal is to offer a suitable place equipped with all the necessary tools, so that anyone can do DIY in the best possible conditions, without having to buy tools that will be underused.

Operation
Like all the buildings of the Goodwill Farm, the different parts of the large barn will be shared spaces, accessible 24 hours a day, 7 days a week, via a PASS